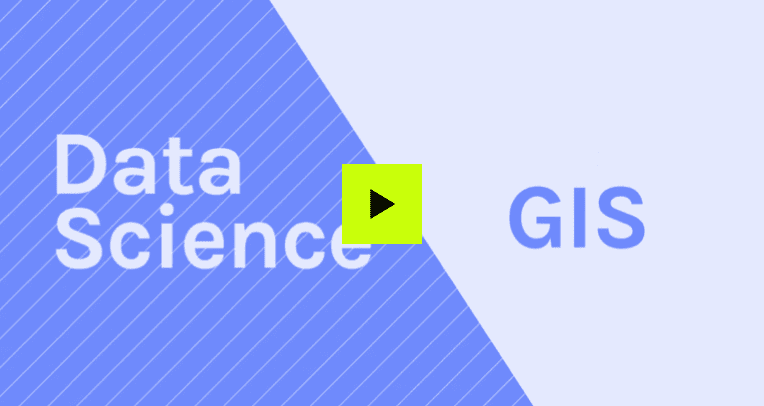 See highlights of the Spatial Data Science Conference 2022 in NYC. The largest event for Data Science, GIS & Analytics professionals.
This year we gathered more than 500 Data Science, Advanced Analytics & GIS experts from across the globe, to bring together a host of businesses and organizations asking important location-based questions: about our cities; for commercial impact; and for sustainability.
Watch #SDSC22 New York On Demand
Did you miss it? Want to re-watch a talk or share with a colleague? Fill out the form to access the talks and share with your peers.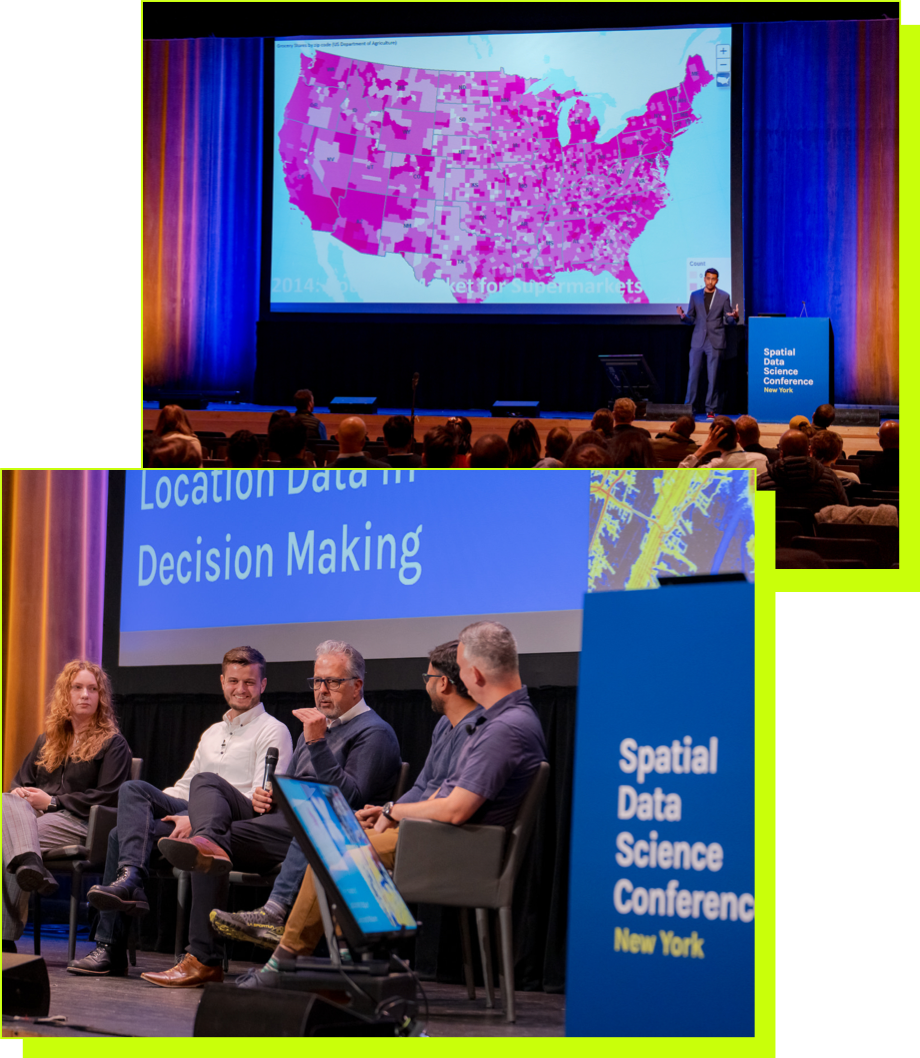 #SDSC22 New York Photos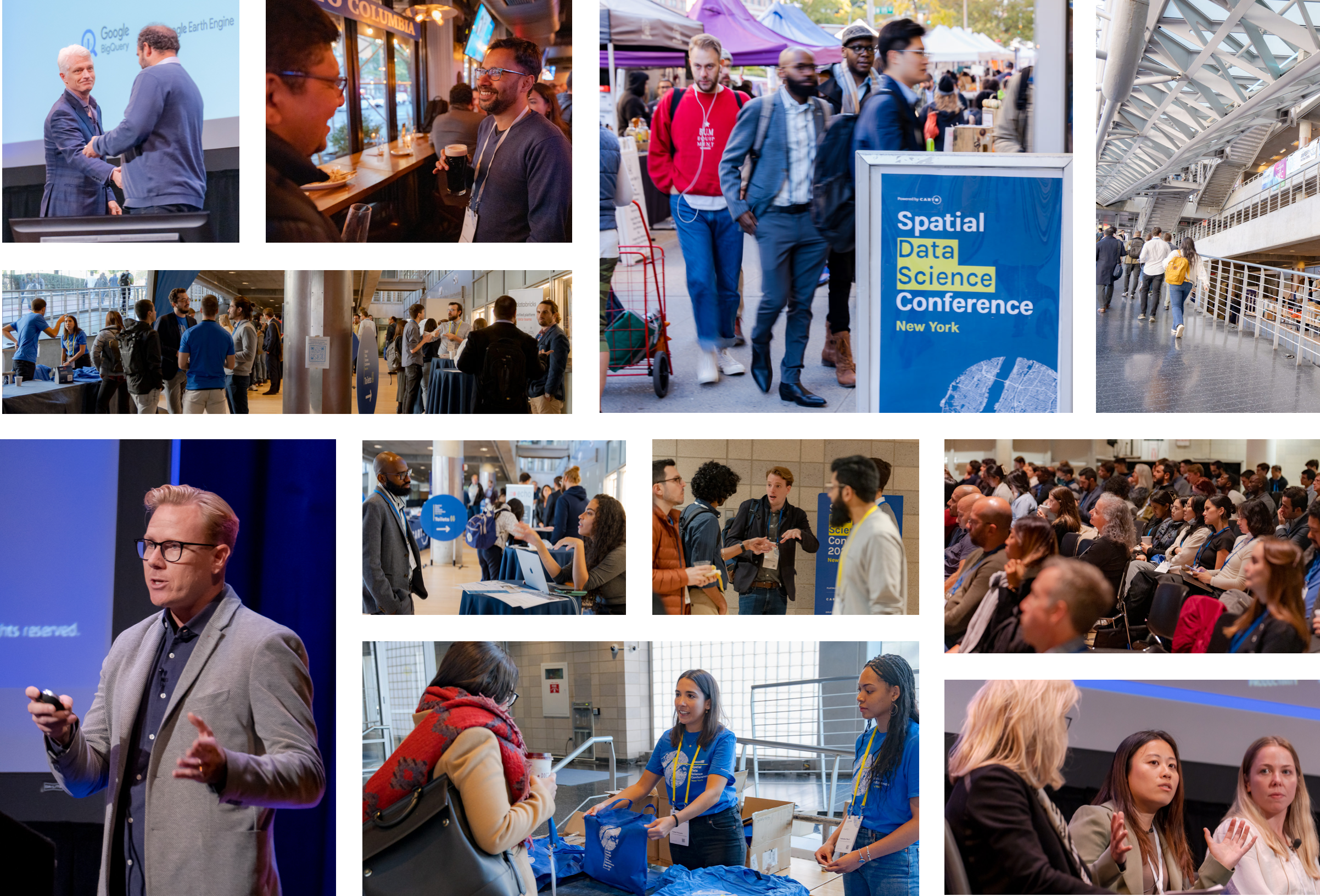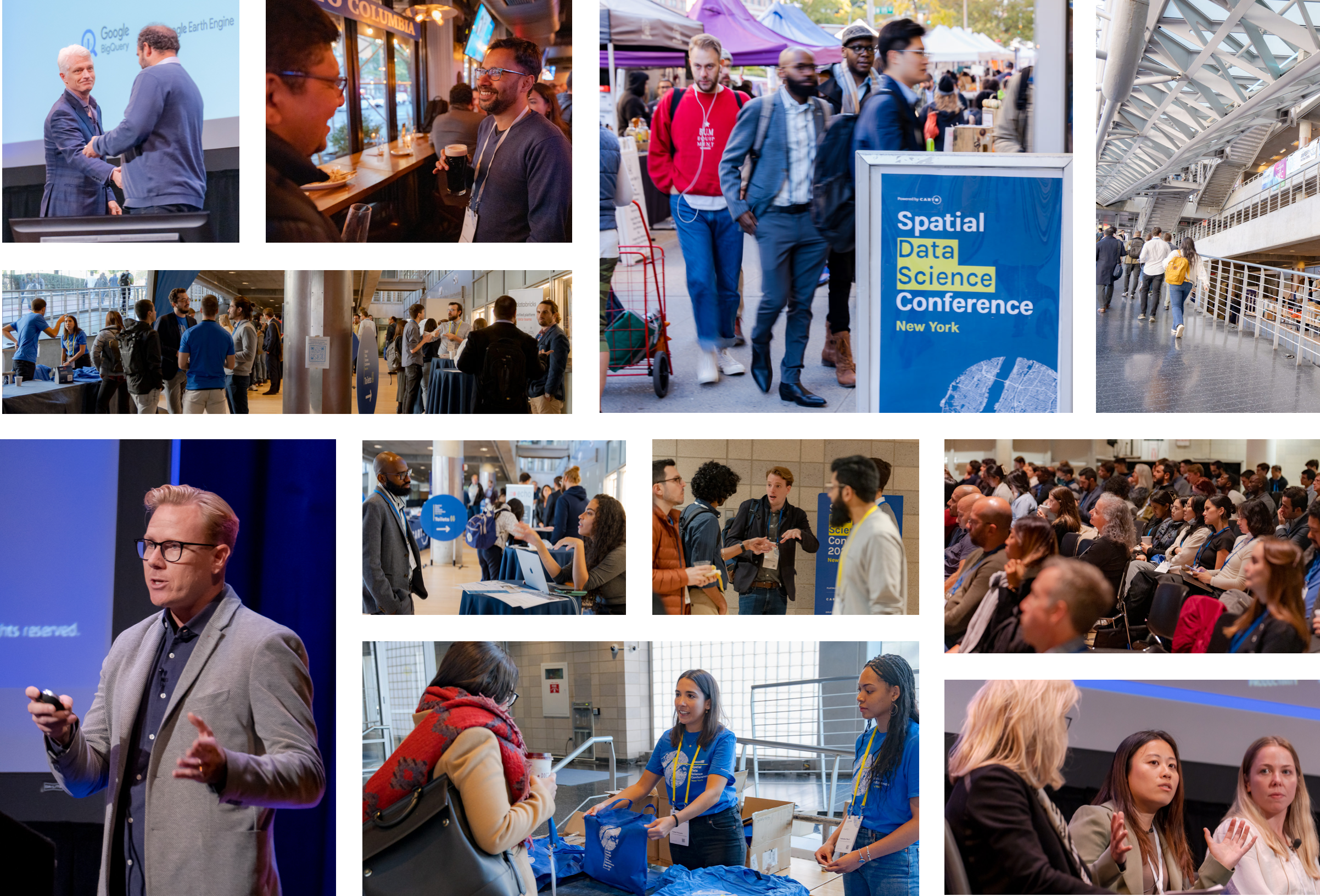 Check out the full gallery
Agenda
8:00

-

9:00

Registration & Welcome Breakfast
09:00

30 mins

Javier de la Torre

Founder & Chief Strategy Officer of CARTO

Opening Keynote

09:30

Use of machine learning, ontologies, differential privacy, and of course location intelligence to create an open, multi-layer executable digital twin for speculative and predictive analytics. 1. Digital Twins are in their early stages but have powerful disruptive potential 2. Spatial analytics extended with machine learning and deployed on federated digital twins is a path worth exploring.

15 mins

Arthur Berrill

Distinguished Technologist & CTO

Extending Digital Twins with AI

09:45

With continuous growth in the size of datasets and declining cost of storage, it's becoming more common to use a data warehouse like Amazon Redshift for geospatial data. With AWS Data Exchange, you can search for — and subscribe to — third-party datasets that are live, up to date, and can be queried immediately alongside your first-party data in Amazon Redshift. Learn how this novel approach sets data free, enabling data monetization for third-party providers, and secure and live data access for high-performance serverless geospatial analytics within and across organizations.

30 mins

Devin Herd

Global Lead for Geospatial Data, AWS Data Exchange

Serverless Geospatial Analytics with AWS Data Exchange for Amazon Redshift

10:15

Given that drivers spin a virtual web of routes and drive-paths in and around any metro-area, when determining an ideal location for a second facility in the same metro-area, how do we calculate which drivers will continue to use the existing facility and which will switch ('divert') to the new facility? We will discuss how following GPS breadcrumbs, creating isochrones and using existing facility usage can provide a framework to approximate a simple percentage of diversion from one facility to another – and any efficiencies gained from that diversion.

15 mins

David Cavanaugh

Data Scientist

Calculating the Impact of a New Trucking Terminal: A Diversion Analysis
10:30

-

10:50

Coffee Break
13:50

What do these 4 things have in common? Putting scale first. The coolness factor. Turnover. The pandemi-pocalypse. The answer? They led to our failure to build geospatial capabilities. That's right - this is not another conference success story. Learn what went wrong – at a strategic and tactical level – and what I would have done differently. Walk away with concrete, actionable lessons on what it takes to get from promise to practice when geospatial is new in your organization.

15 mins

Richad Nieves-Becker

Senior Associate Vice President, Data Science

How I Didn't Build Geospatial Capabilities: A Tale from the Trenches

14:05

Snowflake's evolution into a data cloud platform, offering support for data engineering, data science & ML, data sharing, streaming analytics, and, of course, geospatial analytics, enables new use cases for our customers and partners. From Dynamic Pricing, to Fleet Management, to Energy Grid optimization and beyond - Snowflake is becoming a platform of choice for conducting geospatial analytics in the cloud. Come learn about new innovations and use cases becoming possible on Snowflake today.

30 mins

Sergei Sokolenko

Sr. Manager of Product Management - Geospatial

Felipe Hoffa

Data Cloud Advocate

Snowflake's evolution to Geospatial Data Cloud: New Use Cases and Capabilities

14:35

Consumers make countless decisions as they move throughout the day, many of which are influenced by the out-of-home (OOH) ads that they engage with in the physical world. Join Claudia Chang of Clear Channel Outdoor (CCO) as she dives into how CCO uses mobile location data and geospatial models to plan powerful OOH campaigns that complement an omnichannel approach to this consumer journey.

15 mins

Claudia Chang

Product Operations Manager, RADAR Data Products

Using Consumer Movement and Behaviors in Impactful Out-of-Home Planning

14:50

Using GPS location data appended to POIs can greatly enhance your ability to understand movement patterns, visits, and dwell times. In this discussion, we will dive into methods to enhance and tweak your visit attribution models to account for specific variances in your business.

15 mins

Paul Rossman

Data Scientist

Enhancing Visit Attribution at POIs

15:05

In this talk, Kent will introduce the Databricks Lakehouse for efficient and flexible geospatial data processing and analytics. Kent will highlight recent boundary-pushing performance improvements with H3. Using OSM and NYC building data, Kent will walk through a practical example of location analytics to understand access to different services.

15 mins

Kent Marten

Staff Product Manager

Geospatial Lakehouse for Location Analytics

15:20

Join our expert panel of data providers as they dive into data's role in decision-making and how they see this evolving in the near and distant future. Expect to hear about new data streams, sources, and use cases, as well as the challenges and opportunities that lie ahead for unlocking their potential.

25 mins

Lynne Schneider

Research Director, Data-as-a-Service and Location & Geospatial Intelligence

Ray Roberts-York

Managing Director

Olivia Vahsen

Developer Advocate

Geoffrey Michener

CEO & Co-Founder

Dr. Devashish Fuloria

CEO & Co-Founder

Tyler Dillard

Solutions Engineer

Panel: The Future of Location Data in Decision Making
15:45

-

16:05

Coffee break
16:05

Drinking water contaminated by chemicals affects millions of Americans. We examined machine learning approaches for predicting private wells susceptible to contamination by leveraging spatial techniques. Key takeaways: 1) Using machine learning techniques to predict drinking water contamination 2) Challenges caused by spatial clustering in the data and solutions 3) Best practices in communicating model results

15 mins

Cindy Hu

Lead Data Scientist

A Machine Learning Approach for Identifying Private Wells Susceptible to Chemical Contamination

16:20

In this session, we will go through the fastest way of sourcing and ingesting Points of Interest by using open sources, polygons, and satellite imagery. We will also discuss how our approach made it possible to do brand attribution, taxonomy, and data labeling at scale, to ensure we deliver ultra-granular POIs.

15 mins

Thea Backlar

Vice President of Product

A Scalable Methodology for Building POIs in Less than 6 Months

16:35

In an increasingly volatile world with economic uncertainty, high inflation and evolving market dynamics, the use of geospatial analytics in CPG to meet customers and consumers needs is increasingly driving more P&L value through analytics innovation in use-cases such as route to market, last mile delivery in D2C and revenue growth optimization.

15 mins

Arun Nandi

Senior Director, Head of Data & Analytics

Driving Value with Geospatial Analytics in Consumer Goods in the Post-Pandemic World

16:50

Over the past decade, advancements in vehicle connectivity, telecommunications, and big data analytics have enabled the development and implementation of high-fidelity performance metrics to understand and operate our roadways. Traditionally, vehicle sensors are deployed by transportation agencies to monitor roads, which are costly, time-consuming, and requires habitual maintenance. Case studies using connected vehicle data are presented and results visualized using web-based geospatial tools.

15 mins

Howell Li

Research Analyst

Why Vehicles Know More About Our Road Infrastructure Than We Do

17:05

5 mins

Spatial Data Scientist of the Year Award
View the full agenda